The year 2022 marks the 40th anniversary of Jusuf Gërvalla's death. Based on this event, the International Art Festival "Nën braza të kohës / Under the Plow of Time" commemorates for one year through various activities the diverse work of Jusuf Gërvalla under the title 82 Gërvalla 22.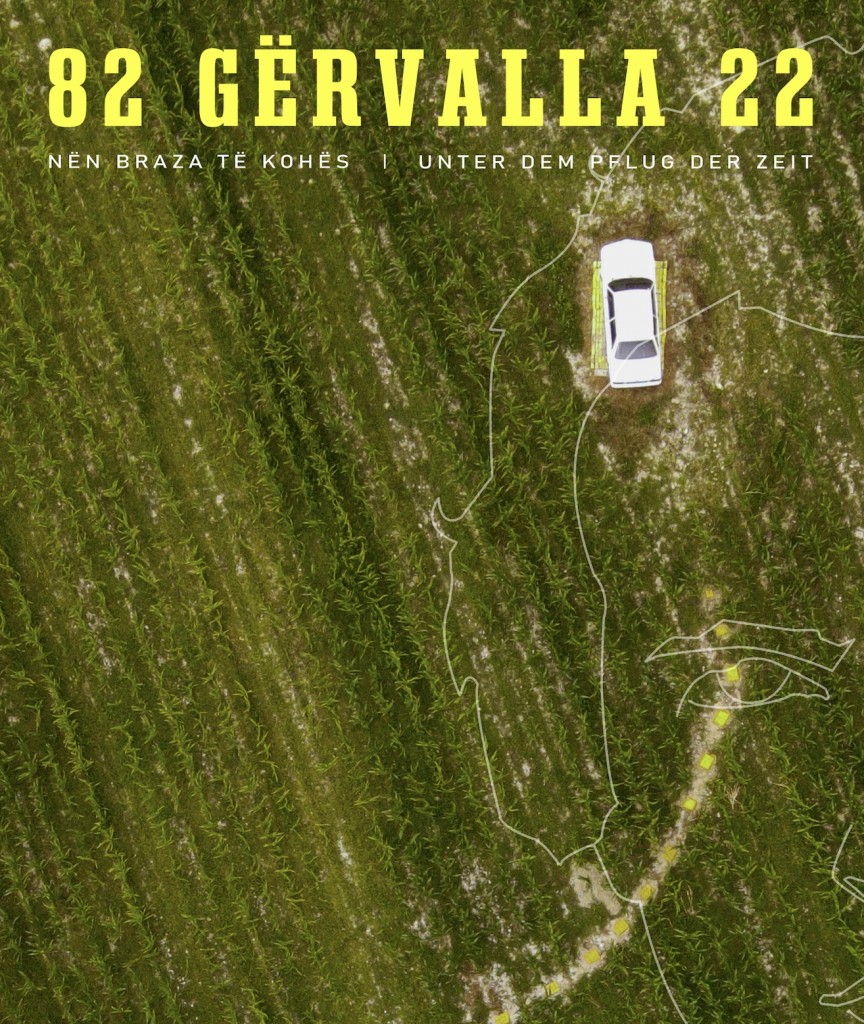 In Kosovo most public spaces are heavily dominated by the figures of post-war heroes , solely male martyrs, often portrayed armed and hyper masculine, executed in a style that resembles action figures out of plastic. This kind of representation does not give any possibility of a differentiated approach to the recent past; supposed good and evil received their hyperreal manifestations in the public space. The ubiquitous busts and statues occupy public spaces, whereas the wish to replace said monuments – even through political intervention – is seldomly on the political agenda. Along the way while working on aforementioned project, a question rose in importance: how to approach the figure of Jusuf Gërvalla without falling back to one-dimensional forms of culture of remembrance in Kosovo. Our answer was to focus on a participatory project set-up with the potential to accommodate activities from diverse perspectives.
Thus, we positioned a car as a "permanent sculpture" in Strellc village, not too far from Dubovik, Gërvalla's birthplace. At the same place Gërvalla used to take walks and pass through to catch the bus to Peja. We placed a BMW-316 in one of the nearby corn fields; a similar car in which Jusuf was murdered together with his brother Bardhosh and with Kadri Zeka in Germany on 17 January 1982. As the months and weeks of 2022 passed, the field grew, and pathways were opened around it for the visitors to search for the car. Broadcasting from the car, people can hear songs, poetry, and other numerous materials related to Gërvalla's work.
In 2022, our activities as part of the one-year program 82 Gërvalla 22 initiated a discussion on archiving Gërvalla's work as cultural heritage and conceptualise as an alternative to the mono-narrative memorialization surrounding his person, including research, artistic interventions, or and a festival.
Hence, this one-year program aims to shine light on the diversity of Gërvalla's work, as his literary work is not widely known. In fact, many of his songs were prohibited, destroyed, or disappeared somewhere, without having been fully known.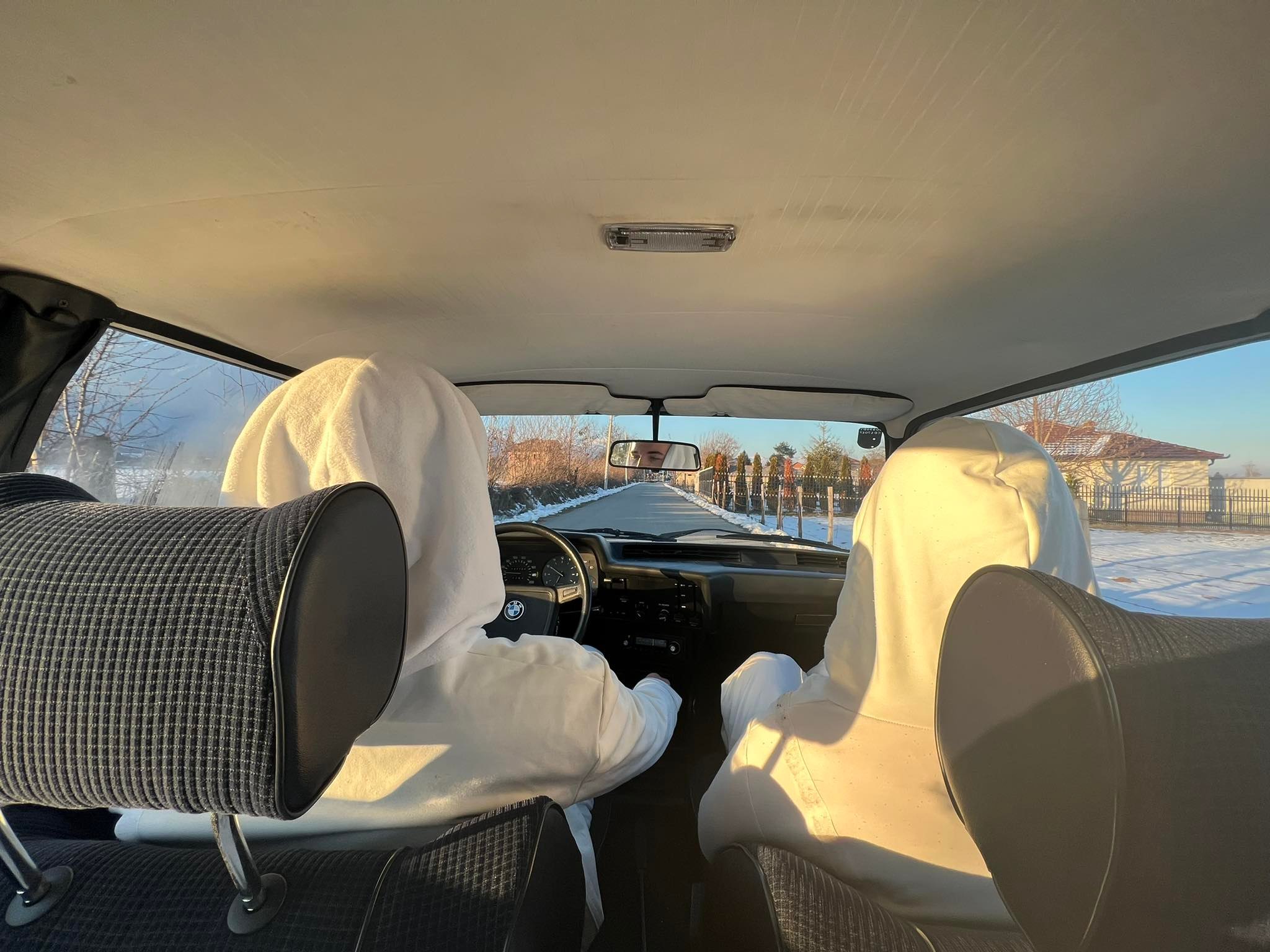 Jusuf Gërvalla as a writer, musician, translator, publicist, and political activist has explored the Albanian cultural and historical heritage (especially that of Western Kosovo), appropriating it for literature creation and political action. His poetry and songs mainly relate to the world of the region of Dukagjini, his birthplace, his milieu, his longing for his mother, his childhood memories, the destiny under occupation of his nation, and the ethnographic landscape of that region.
82 Gërvalla 22 provides a place to commonly outline and map the memory of Gërvalla's internal world and enables interaction with the visitors and creators, both local and international. This practice constitutes a form of collective memory that creates an interdisciplinary basis for culture, art and sound research.
The program, conceived by the organizations Stralli (XK) and Transit (AT) comprises of performing actions, translation workshops, research seminars, and audio-visual archiving of materials from the author, which are presented continously to the public in 12 thematic blocks every 17th of each month in 2022 (for more on the program visit www.stralli.org). The interventions include: the translation of poetry in German within the framework of a "Translation Workshop" implemented jointly with the students of the University of Prishtina. Also, the action "Kanjushë e verdhë: Peizazh zërash e skulpturash" (Yellow Stork: A Landscape of Voices and Sculptures), in which, for one week under the guidance of Andreas Pronegg and Katarina Csanyiova some 40 artists from Austria, Kosovo and other countries of Central Europe participated.
Throughout the four seasons and the changing landscapes, the 82 Gërvalla 22's activities go beyond the strict limits of art, based on a collaboration between artists from the respective field and in real space. Through this platform we have identified the need for an artistic engagement in specific areas where cultural activities are scarce. Its application by artists and creators of various fields leads to broader acknowledgement of our collective experience and creates a different idea of our area and country, specifically by becoming the scene of this multidimensional action. Among other things, this is achieved through international exchange, which provides a new perspective on the subject through experimental thoughts and approaches. Here, commemoration is thought of more as a transitory moment. The ephemeral enters the scene through performative interventions, choral singing, ambient noise, interactive reading of poetry, and translation work, which is in stark contrast to the commemoration through permanent sculptures mentioned at the beginning.
The collective handling of Jusuf Gërvalla's work enabled a new relationship between memory and art, which is now more tangible. The act of displaying the nuances of this memory creates a narrative structure that leads towards new, broader horizons while at the same time interpreting those, by reconstructing it, by bringing new findings or giving a new direction to the heritage. This collective agency of acting subjects to deal with a commemorative phenomenon create a special link with the past by expanding it as a subject, by re-orienting it in space, and rendering it "independent".
---
Alban Beqiraj studied Theatre Studies and Philosophy in Kosovo and Austria. Since 2018 co-founder of the cultural association Stralli and the international art-festival Under the Plow of Time. Directed/collaborated on several theater performances in Prishtina and Vienna.
Verena Walzl studied Art History, German Studies as well as Fine Arts in Austria. Since 2019 working as OeAD lecturer at the University Hasan Prishtina. Various exhibitions in Austria and abroad, as well as publications of scientific texts and poetry.