Source: bbc.com
A new museum is documenting the experiences of children during the 1990s Bosnian war by asking people to contribute personal belongings from their childhood.
The War Childhood Museum is set to open in Sarajevo this year, and will display items from people who grew up during the 1992-1995 conflict. Among the pieces collected so far is an array of humanitarian food aid packaging, gathered by a Sarajevo child and then kept for two decades.
There's also a burned book that was pulled from the rubble of the city's destroyed National Library by a young Alma Telibecirevic. In an accompanying text she says: "I couldn't know then how long the war would last, and what would happen next, but it seemed to me that the act of saving the book made sense."
In a post on its Facebook page, the museum says that the items might seem "modest and irrelevant at first glance", but each represents a child's experience. "These stories are not only ones of sorrow, but also of joy, pride, nostalgia and other passions," it says.
The museum's organisers are still searching for a permanent building, but recently held a temporary exhibition in Sarajevo and now plan to tour the rest of Bosnia-Herzegovina.
For Mela Softic, who gave the museum her first pair of ballet shoes, it's a chance for people to share stories without political overtones. She tells Balkan Insight: "We were too young to know anything about the political situation at that time… so we can just share the truth about the war and our personal experience."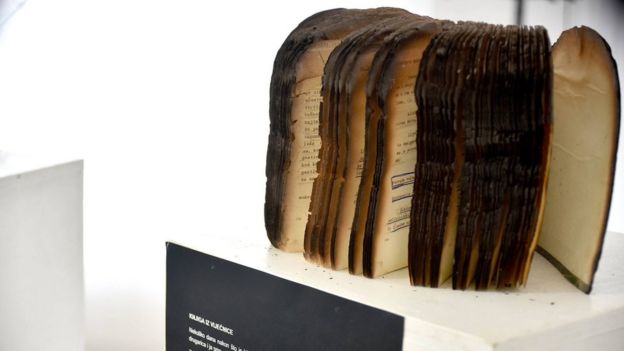 Almost two million books were destroyed when the National Library was shelled – but this one was saved by a teenager