Conflicting perceptions of the past, troubling perspectives for the future
By Teuta Hoxha
It has been more than 17 years since the war in Kosovo, yet relations between Kosovo and Serbia are still fragile. Kosovo today is struggling to achieve the idea of a multiethnic society in the aspects of communication, cooperation and eventually integration between communities living in Kosovo, especially between Albanians and Serbs. The local elections in 2013 were very important, because the north part of Mitrovica participated in the Kosovo-sponsored elections.
It is important to mention that there has been little reckoning of war crimes, both in Kosovo and in the region. A high number of people were killed, mostly civilians, and many have yet to be found. The perpetrators were not held accountable in the courts, the victims were not compensated in a proper manner, and the educational system is failing to capture the history of the 90s in the Western Balkans through a regional perspective. This slows down relations between the two major communities of Kosovo, and any attempts to move beyond existing differences.
Seeing that the process of dealing with the past is crucial in order to move forward, the YIHR Kosovo have conducted a survey focused on the youth born in post-war societies who have blurry memories of the war from their childhood.[1]Youth is one of the essential actors in the peace-building process, and is needed to carry the values of reconciliation and to construct a sustainable society in the future. Therefore, we wanted to point out the importance of education: what kind of information, narratives, impressions do the two communities have about events from the past, what prejudices do they have regarding one another? Do they have everyday interaction within different social forms and roles? What do they know about each other's cultures, and how well they are informed about the recent past? Underpinning all of that: how is the process of reconciliation going?
Nice to meet you!
The first question of our survey was simple – "Have you ever met an Albanian or a Serb?" We wanted to get a picture of the reality on the ground: Do citizens of this society with a history of recent conflict and an unclear political system meet each other in the post-war era?
Our result shows that 39.36% of the youth of Kosovo of Albanian ethnicity (K-Albanians) have had occasion to meet their fellow citizens of Serbian ethnicity, while 70.59% of the youth of Serb ethnicity (K-Serbs) have had chances to met K-Albanian on many occasions. In order to understand this better, it was important to know what the reason was for those not having a chance to interact? The most frequent answer (graf.1.) was the reason of "Ethnic, linguistic and geographical barriers." What do these barriers mean? Based on the answers we received, most of them refer to the physical division, a fact of not living within the same community, and not knowing each other's languages and cultures. This question was open, so we also received answers to do with family losses, hatred and rejection.
Graf. 1. If you have never met them, what do you think is the reason?
Owing to a long-period of physical isolation, an increasing number of young people from these communities have never met with members of the counterpart community or visited each other's towns, villages, cities or homes; 92.12% of K-Albanians have never been guests in a family of Serb ethnicity, while 78% of K-Serbs have never been guests in the home of a K-Albanian family.
Prejudices often come from not knowing and not having experienced the culture of the particular social group towards whom we have prejudices. It is interesting to notice the role of the media in shaping the mindset of youngsters. That became clear when research showed that those most known to Kosovo youth were the politicians[2] – 62.65% of K-Albanians identified one or several politicians of Serbian ethnicity, and 61.61% of K-Serb youngsters identified politicians of Albanian ethnicity.
In the field of literature, only 1.84% of K-Albanians knew the names of Serbian writers, and almost the same went for K-Serbs, as only 1.86% knew the names of Albanian writers.
Serbian music is known to 46.90% of K-Albanian youngsters, but a much smaller percent of K-Serbian youth are familiar with Albanian music – 14.24%.
In the Western Balkans, sports have led to public gatherings where ethnic divisions are often highly visible. It is in this context that we read the results that have shown that 69.68% K-Albanians do not know any name of a Serbian athlete, and 88.24% of K-Serbians could not name any Albanian athlete.
Can you mention places were war crimes happened in Kosovo?
The knowledge about the recent past is contained in narratives preserved in the memories of the young population in Kosovo. All the questions related to dealing with the past were direct. However, tangible knowledge about war crimes in Kosovo is not high, especially about crimes committed against the other ethnic group.
Only 1% of K-Albanians can name three to five places where war crimes against Serbs were committed in Kosovo, while 26.93% of K-Serbs could do so. In the same category of knowing more than three places where war crimes against Albanians happened in Kosovo, 39.76% K-Albanians were able to mention such places, and only 4.33% of K-Serbs.
We questioned average knowledge about war crimes, asking respondents to name at least two places where war crimes against the counterpart ethnic group happened in Kosovo.
Only 1.66% of K-Albanian youth knew the answer to that question, and only 8.36% of K-Serbs. As for knowledge about war crimes against Albanians, the figure rises to 20.89% for K-Albanians and lowers to 2.48% for K-Serb youth. 13.95% of K-Albanian youth and 8.67% of K-Serb youth could mention only one place where war crimes happened in Kosovo against Serbs. 11.56% of K-Albanian youth and 5.88% of K-Serbian youth could name only one place where war crimes were perpetrated against Albanians.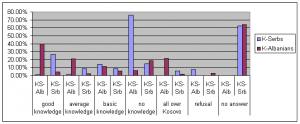 Graf.2.: Can you mention places were war crimes happen in Kosovo?
Can you name any Albanian/Serb person who is accused of war crimes in Kosovo?
For this question, the answers showed the following: 68.17% of K-Albanians could identify the names of persons accused of war crimes who are of Serb ethnicity, and only 17.96% of K-Serb youth could do that; 69.68% of K-Albanian youth knew how to identify personalities who are accused of war crimes in Kosovo with Albanian ethnicity, while 10.22% of K-Serb youth answered the same question affirmatively. (Graph. 3)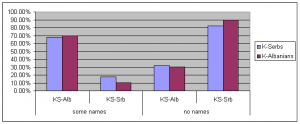 Graf. 3 Can you name any Albanian/Serb personality who is accused of war crimes in Kosovo?
Do you know where the war crimes trials were held?
With this last question, the purpose of which was reaching an overall picture of the youth's position in the process of dealing with the past, Kosovo youth were asked to name some places where war crime trials have been held in Kosovo. 40.87% of K-Albanian youngsters think that no war trials were held in Pristina, as also did 29.72% of K-Serb youth. 50.92% of K-Albanians answered with a no to the question whether trials were held in Mitrovica, and 32.20% of K-Serbs said the same. 50.92% of K-Albanians believe that no trials have been held in Serbia's capital Belgrade, and 32.82% of K-Serbs hold the same view. 93.47% of K-Albanian youth said that trials were held in the Hague, Netherlands, and 81.11% of K-Serb youth said the same (Graph. 4)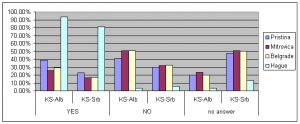 Graf. 4 Do you know where the war crimes trials were held?
This report shows the necessity that the issue of freedom of movement should be addressed by the Government and civil society. It is crucial for young people and the rest of the citizens of Kosovo to be able to move freely and fearlessly around the country. Nevertheless, the barriers dividing Kosovo's communities are not only physical but also psychological. This is due to the influences of the media and the education system, which are both ethnically segregated and heavily controlled by the political establishment. But as the disseminators of norms and values, the educators do not stimulate critical thinking among the youth, but rather give them ready-made narratives based on strictly nationalist perspectives. The results are walls of division between the communities, most obvious in terms of their perceptions of the past, but also as regards their perspectives for the future. Youth Initiative for Human Rights – Kosovo (YIHR KS) maintains that the civil society needs to take the opportunities to break these barriers, while there is also a need for time in order to change the media framing and the education systems.
Footnotes:
[1] The research was conducted between January and September 2015, with a total number of 920 respondents, 17-30 years old. All interviews were semi-structured, with 10 closed or open questions. The survey was conducted in the two official languages of the Republic of Kosovo: Albanian and Serbian.
[2] Interestingly enough, 30.32% of K-Albanians and 62.85% of K-Serbs do not know how many Kosovo MPs are Serbs.
The author is acting executive director of Youth Initiative for Human Rights Kosovo