"Bye, Berush. See you," are the last words heard by Xhemajl Mustafa, a Kosovo Albanian journalist and intellectual. He spoke those words to his teenage daughter, Beriana, as he was going out of their apartment in Prishtina in noon of 23 November 2000. As the 22nd anniversary of his murder looms closer, Beriana – who followed into her father's footsteps and works as a journalist – is still searching for justice.
"He started the morning in the usual way, with a cup of coffee and working on his computer. I told him: your eyes are a little red; leave the book and you can work on it later. He agreed with me in silence and left the book, getting ready. I know it was autumn. I held the jacket out for him. I told him: Bye, Dad, see you later. He said: Bye, Berush. See you. That was the last moment, and the freshest memory," recalls Beriana.
It should have been a usual day for her too. Yet, as she was coming from the university, the space near her apartment was surrounded by crime scene tape. The last thing Beriana wanted to believe was that a family member of her had been a victim. "I think that they have murdered Xhemajl Mustafa," a stranger told Beriana, without knowing it was about her father. The young girl broke through the police cordon and crime scene tapes, screaming in pain and disbelief of what she feared had happened. Beriana and her brother Besian were initially told that Xhemajl had been wounded, before their mother told them the bitter truth.
Beriana never had any doubts – to her, the journalist's murder, who was also an activist of LDK, the first Albanian party in the pluralist scene – was purely and clearly politically motivated.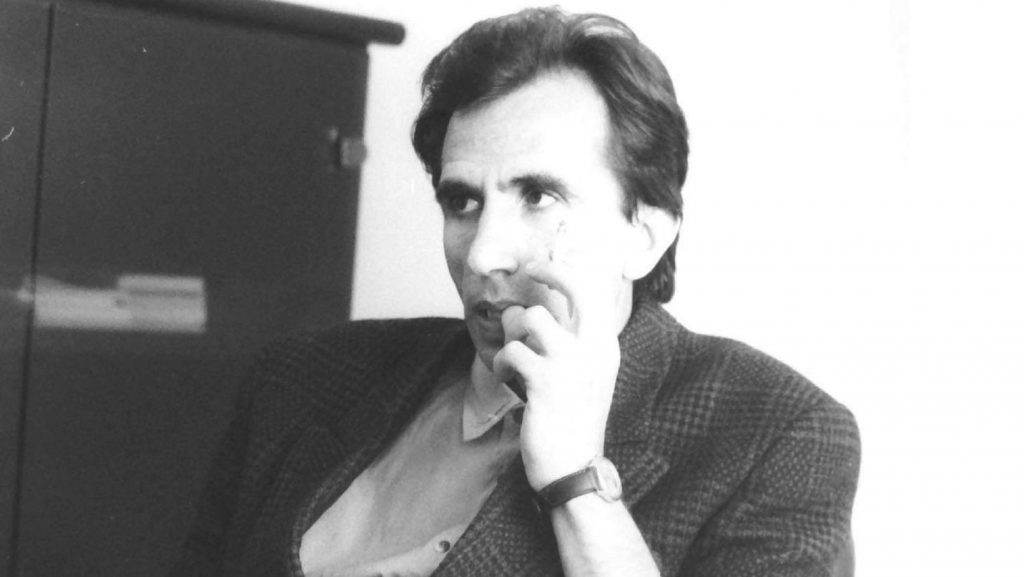 "It was a politically-motivated murder. I believe there are two reasons: to weaken LDK and Rugova's circle. There was an article he wrote, which I do not believe was the main reason, but it was an article published in "Bota Sot" 2-3 months before he was murdered. There was a graffiti in Prishtina: 'Kosova, woe betide my blood'. This was after the first local elections that were won by LDK. Father had written an article based on those graffiti in the context of political rivalry. I am not saying that was the main reason but sometimes I think it served as an additional drive to murder. It was also the publishing context. It is a political murder driven by the articles that the opposing political wing did not like," Mustafa says convincingly.
Local Justice
No day goes by for the Mustafas without hoping that justice will provide an answer to the murder that hit this family. Several justice systems have changed in Kosovo over the years and Mustafa says none of them really dealt with insistence to clarify the circumstances of the murder, or to find the perpetrators.
"When Aleksandër Lumezi (former State Prosecutor until 2022) was Prishtina Chief Prosecutor, he made a public statement saying they were very close to finding the murderer of Xhemajl Mustafa. At that time, the EULEX Prosecution summoned my mother to make a statement. UNMIK has been to our home 2-3 times but for the first time in 2012 EULEX summoned my mother for her testimony saying they were interested in reconstructing the event as the case file was flawed. My mother's memory was not fresh because quite some time has already passed. However, I have the impression that a serious investigation never took place. My family thinks the same," says Mustafa.
Beriana's brother, Besian, is a deputy for the opposition party, the Democratic League of Kosovo. In 20 years after the war, LDK has led the government only once, yet he has been part of several of governments. Ms. Mustafa says this party has used the post-war political murder for political points, and has never made any real attempts to push for justice.
Specialized Chambers – The Last Chance?
Just as with other enigmatic murders that were perpetrated right after the official end of the war, also for the murder of the renowned intellectual, the Specialized Chambers in The Hague represent a new hope.
"As far as I know, his case falls under the domain of the Specialized Chambers. We have not been informed officially whether his case is being tried at the Specialized Chambers. Yet, there is a public statement of former prosecutor Williamson who spoke about murders of political opponents, so I believe it falls under this domain. Because this is a purely political murder, of the LDK opponents, regardless of who the person was. I have personal presumptions, but it was politically motivated, as he was a man of LDK, with no doubt. Only people of LDK were murdered, to politically weaken this party," says Mustafa.
For the largest part of his career, Xhemaj Mustafa worked for the newspaper "Rilindja". In the beginning of the '90s he gave his contribution to the Kosovo Information Center (QIK), a media organ of LDK. He remained in Prishtina during the entire war time, including the 78 days of NATO bombing. During that time he wrote the book "A Prayer for Prishtina", which he published shortly before he was murdered.
He was a well-respected intellectual, and the family feels his contribution was never respected sufficiently by the local institutions.
---
Xhemajl Rexha is Chairman of Association of Journalists of Kosovo, the body that represents some 900 journalists from all ethnic backgrounds in the country. Rexha now hosts "Prime Time" current affairs show in Kanal 10, and worked since 2005 at Kohavision (KTV), where he hosted one of the most watched current affairs show 'Interaktiv'.  With AJK, Rexha is actively engaged in media literacy events, which also includes trainings and reporting about past and sensitive journalism.