I firmly believe that journalism, as a force of responsible, professional, and ethical public speech, has the potential to create a democratic and open society. In this article I share personal reflections on why I perceive journalism as a peace mission, especially in a post-conflict society such as Bosnia and Herzegovina. Here – under the influence of nationalistic politics – at least three types of publics exist separately, radically narrowing the space for common dialogue and exchange of experience. In this mission, the voice of young journalists is a necessary segment in the all-encompassing fight for societal healing.
People who act publicly and whose public speech can potentially influence different levels of the societies burdened by war have a special responsibility to advocate for peaceful solutions. Instead of leaving the public opinion to the nationalistic spokesmen of hate, a sound recommendation would be to wholeheartedly open public spaces to the educated young people. Unburdened by hatred, they contribute to raising standards that have been destroyed by individual nationalistic interests of party ideologies. These ideologies are incapable of articulating a vision of a better democratic society, while not denying the individual or collective particularities that have cohabited for centuries as an ornament and capital of symbolic value deeply woven into Bosnia and Herzegovina. One country for all of its people. For all who daydream of a better future up and down its historical-geographical magic. Instead of pathetically drawing up a sketch of a "better future", let us ask ourselves whether it is truly possible. And, if it is, what can we do about it right now? For starters, let us bring back the trust in the potential of our own youth, in the power of youthful energy which could, in all its defiance, tear down the walls of division. Such walls were built to prevent the mutual exchange of positive values, knowledge, good vibes and experiences through which they could learn from each other about empathy and humanity, human vulnerability and transience. About life and death. Hard work. Dreams. Ideas. Ambitions and failures. Infatuation and hurt. Those human experiences which make each person who they are, authentic in what they have lived through and survived, and still – substantially and existentially – similar to one another. Is that not a foundation on which we could, united in love for that which is fundamentally within us, build the society of Bosnia and Herzegovina based on positive values? A society in which we will become aware of the idea that war is the greatest evil that the human mind can produce? That is why it is important for us to learn our lesson on the skill and the necessity to seek forgiveness, on the culture of memory built upon understanding suffering and pain; vowing never to repeat such pain, loss of home or loved one for anyone ever again.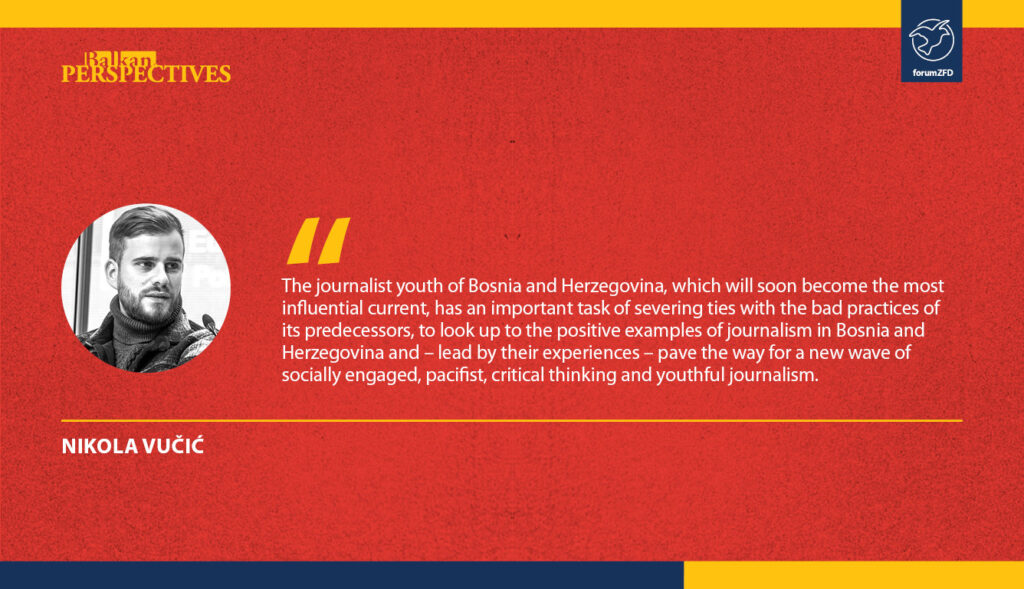 Journalism is a powerful force. That is why it has been abused both historically and in the present. Because of its power to reach people, it has always been enticing for negative influences, for attempts to inscribe – small or large – ideological implications, out of interest but with bad intentions, in the essence of its content. This, however, we can and should change. For the sake of our lives and the lives of those to come after us. We do it with the strength of a unique social and journalistic engagement, certain that a society of positive values has no other alternative. Let us dare and step forward bravely from the spiritual and intellectual caves in which they try to force us and persuade us how comfortable we are in them, how our lives are more valuable, better, more expensive and more meaningful in these dark salons for the production of evil and revenge. But is that not in itself a paradox? Building peace is the most valuable activity of Bosnia and Herzegovina after the destructive war. After years drenched in blood and tears, genocide and seeking posthumously the remains of family members. And precisely because of that the journalists' pen in the hands of a young man from Bosnia and Herzegovina, enriched by the desire for peace, could finally be the most sacred object in which the public will trust, eager for a better tomorrow. Journalists are proud allies of all well-meaning citizens; they are in the service of the public, truth, differences and development. Journalists are at the forefront of freedom of opinion, defending the dignity of workers. They are a glimmer of hope in the dark forest of Bosnia and Herzegovina's nationalist politics, in which we can sometimes lose ourselves, drawn into the instrumentalized narrative of others as enemies. And the fear of change is the greatest enemy of us all. Fear of changing bad habits. Fear of changing our perspective.
The journalist youth of Bosnia and Herzegovina, which will soon become the most influential current, has an important task of severing ties with the bad practices of its predecessors, to look up to the positive examples of journalism in Bosnia and Herzegovina and – lead by their experiences – pave the way for a new wave of socially engaged, pacifist, critical thinking and youthful journalism. The potential of ending the chaotic public image of the past and revisionism, is in the hands of young journalists who will set an example, using factual and objective media reporting, which will break the ethno-nationalist matrix and thus help institutional dealing with the past of our country and building peace.
Only together, young journalists from all over the country, can we proudly walk towards the future and rejoice in the fruits of spoken words like planted seeds.
Nikola Vučić, journalist, TV presenter, researcher. Editor and host of the television show "Izvan okvira" on N1 BiH. He completed his studies in comparative literature at the Faculty of Philosophy in Sarajevo, defending his dissertation on the perspectives of regional literary comparative studies in cross-border linguistics. During his journalistic work, he led a number of projects in the field of human rights and gender equality, peace building and the culture of remembrance. He collaborates with local and international civil society organizations. In the focus of the academic field of activity, he researches contemporary culture, identity policies, and social practices, and publishes papers and publications in various media and journals, including the Croatian journal Književna republika, regarding this topic. He is the author of the Critique of Toxic Masculinity, published in 2021 by the German organization Friedrich Ebert Stiftung in BCS and English.