Just as bridges are important to cross from one side of the river to the other, so are the youth and their role in allowing our society to keep moving forward. We would all appreciate relying on a safe bridge that would not let us fall into the river. So, what makes us feel safer while crossing over a bridge? I suppose the materials from which the bridge is made. Same goes for the youth: How can the young generations benefit from current and past experiences of a society? Which is that fruitful environment that builds youth's resilience to the current challenges in our society? And will the youth ever be "built" to survive the high pressure upon them, same as the bridges?
This text attempts to present one way of analysing the education that we, the youth of Kosovo, receive, and what our skills in navigating through our society and its challenges with a critical mindset are.
I have observed at trainings I have had the chance to participate or moderate that individuals, especially younger ones, anytime there is a discussion on a topic which they do not like, are engulfed by individual and collective pressure that leads to heated discussions and conflict. This has happened more often during debates about gender equality, abortion, sexual identity, the rights and wrongs of others and various scenarios related to the political situation in Kosovo, including the last war. As a person belonging to Kosovo's younger generation, as both a trainer and activist, I am aware that many situations will lay ahead of me facing frustration, neglection and ignorance regarding those challenging topics and I understand where those feelings within my generation are coming from. Those reactions come from the same place.
However, I strongly believe that it is better for the youth in our societies to be exposed early to these dilemmas, contradictory opinions, and discussions, as it contributes to a deeper understanding of these topics. Hence, my generation can build their own understanding of the relevance for our past, current, and future development. Certainly, most of the topics that spark controversy do not have a definite answer and needs further fact-based discussion. However, we need to acknowledge that these contradictions are deeply rooted in the ways we currently deal on individual and societal level with those questions of our common past, present and future. When we for example look at the past war, we must counter monolithic approaches with facts, inclusive discussions to find common ways. The youth, as the people holding the responsibility for the future, should not be prevented from having these exchanges by the fear of doubt. When there is doubt, courage and trust is needed: courage as the propeller to push us through the obstacles, and trust as the tool to appreciate the opinions of the others.
At this point, I want to elaborate how individuals are mostly engaging with persons from other communities in Kosovo. For the youth in Kosovo, these are the moments when they face the most doubts and are questioned about their identity, behaviours, attitudes and opinions. This is because we are not taught how to function in a diverse group and events of the past still have affected our collective perspective on people coming from other backgrounds. It is important that during these moments we have the courage to deconstruct our personal views and trust the others' understandings.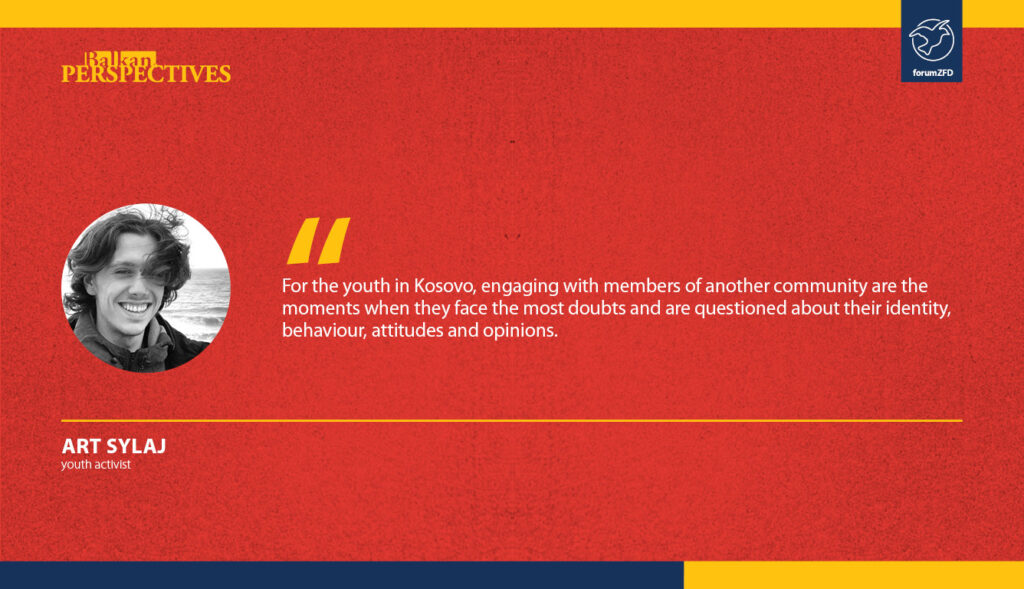 As an example: twice in the last two years I had the opportunity to be part of the Critical Thinking School. The first time I attended as a trainee, while the second time as a moderator in Gjilan. Through this project we engaged in great discussions with experts and they led us through some areas which I had not explore previously: moral justice, political movements, social psychology, nationalism or transitional justice. These topics were discussed in a holistic perspective and thus hardly connected to the situation in Kosovo. So, the participants often engaged in discussing the presentations through examples from their personal context in Kosovo. I remember we had a discussion on how our identity is shaped by external circumstances and collective experiences, how a society is constituted by different ethnicities and if we should identify ourselves with the nationality we are born with or with the ethnicity we belong to.
What made this experience valuable, was the fact that we were all building upon one another's perspectives without seeking to impose any ideas on anyone or getting frustrated if our views were not accepted. For sure, none of us had the final answers to any of these issues. However, through our active participation we were exposed to other views and worked together towards acquiring a deeper understanding of each other and the presented topic.
After the Critical Thinking School, I have become aware of how my perspectives, behaviour and opinions have been shaped and how this shaped the ways I interacted with people from different backgrounds especially when reflecting on topics regarding our nationality, our identity, our rights and events of the past. I seek to remain open to different views that people bring into discussions.
The same applies for many others who have decided to attend different trainings and programs. Many of the young people that I have met before had already made the decision to put efforts into acquiring these skills needed for a critical mindset and by extension, become an active part of civil society. I see it as important for a young person to start taking responsibility of his/her education by himself/herself and go beyond what our education system has to offer in formal schools.
In this context we need to fundamentally rethink the way our educational system is structured. Deciding to educate the youth means that you have the responsibility to provide them with all the tools that they need for their future. I would like to see schools adopting new ways of educating the youth, ways that are more interactive, more engaging for the students and not resistent to also discussing about challenging topics about our past and living together. Let's make our schools safe places where students are not divided by their ethnicities, but they can be taught, collaborate and exchange.
---
Art Sylaj is young activist coming from Kosovo. Currently he is the Regional Focal Point for the Balkans in the Unite2030 Community. He studies law at the University of Prishtina, where he is on his third year. Being part of different NGOs in his home country makes him really passionate on bringing the change within his community. He is also passionate about the SDGs, where he aims to bring more awareness for these goals to the youth.