The official end of the war in Kosovo on 12 June 1999 did not bring to all families the much-needed relief after the brutal war that started in February 1998. The mysterious murdered continued for several more years. Journalists from the largest nationalities: Albanian and Serbian, became target of murders or violent disappearances. In a mini-series of stories, forum ZFD and the AJK shall bring the accounts of their family members, with their unrelenting demand for justice.
Shefki Popova – the journalist of "Rilindja" murdered after a football match
His eyes sparkle and a smile lightens up on the face of Dijar Popova when asked what his father, the journalist Shefki Popova, was like. "A professional journalist and a dedicated parent, a figure of authority Kosovo wide," says Popova, 42, who works for a state agency in Kosovo. His father, "Rilindja" journalist Shefki Popova was murdered with two bullets on 10 September 2000, at the entrance of their apartment in Vushtrri, in north of Kosovo. Although he had been still alive when Diar and his mother approached him, the then 49-year old journalist died on the way to the hospital. Twenty-two years later, Dijari has no response from justice, and no person has been held liable for the murder of his father. Although many years have passed, Dijar recalls the last day with his father. "I was 18 years old. And I remember very well that day we had been together to a football match in Gjilan. After we came back, we stopped at a cafeteria by the city stadium in Vushtrri, and then I went back home, while my father stayed there with some friends. After he returned, it is thought that two persons had been waiting for him at the entrance of the apartment in Vushtrri. Our father was murdered by two persons on 10 September 2000 around 22:00 hrs. The murder was organized and ordered by people of the crime, who feed on crime every day, and they are in Kosovo, and they do not wish for a Kosovo where there is a rule of law, but instead a Kosovo where anarchy rules, because that is how they better realize their organized crime-based aims," states Popova.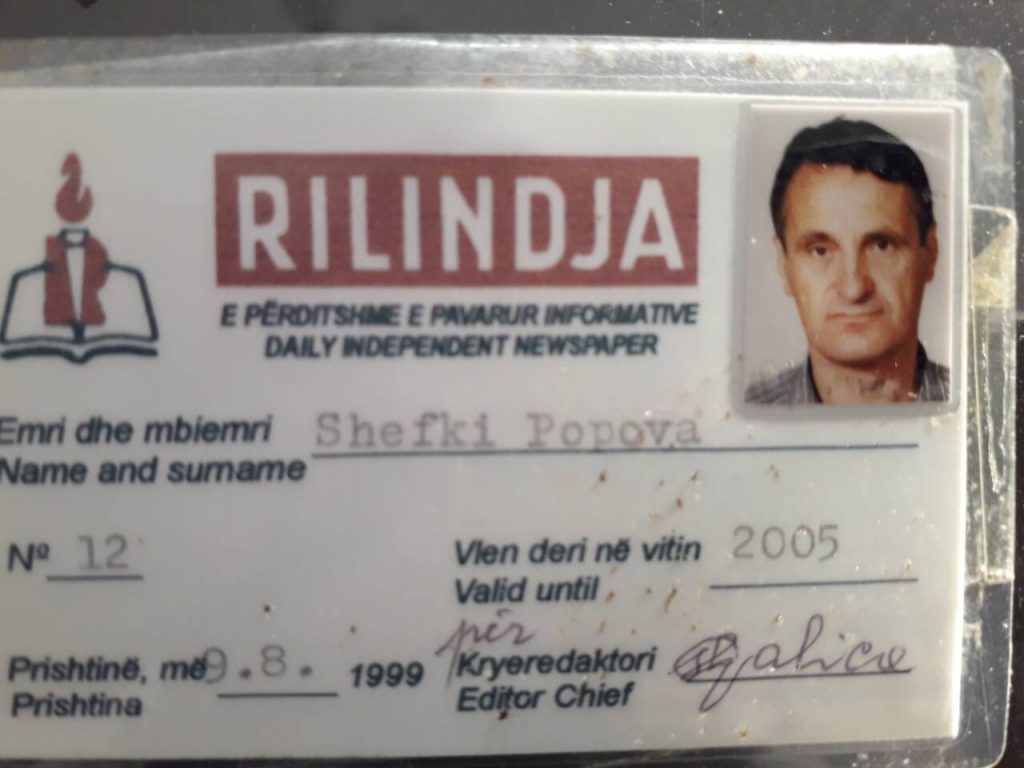 Motives
Popova used to work for an emblematic Albanian language newspaper published since 1974. His co-workers acknowledged and appreciated him as a man of principles and courage. Popova has no doubt that his enigmatic murder is linked with his work as a journalist. "The motive of the murder is our father's work as a journalist, and as a devoted family man, who never allowed his articles to be censored by anyone," he says with conviction. According to his son, who when the father was murdered was a teenager, his father's work during the Serbian occupation of Kosovo had been very challenging. "As family members, we are convinced that the motive behind our father's murder is only his job as a journalist, and that the Specialist Chambers will handle the case and uncover the macabre crime against our parent, who throughout his life worked honorably and with rare dedication, and whose articles were always distinguished by journalistic courage, accuracy, and professionalism, especially during the years of the Serb occupation, a time when the work a journalist was a very challenging profession, and constantly hindered by the oppressive machinery of Milošević, so that the reality of what was happening in Kosovo not to appear in the media," Popova says.
The demand for justice – all eyes on the Specialist Chambers
Popova is highly disappointed by the current justice system. He believes that many murders, included that of his father, and were not uncovered intentionally. "From post-war, justice in Kosovo is a seized and rotten one, where people who are corrupt and incriminated by the politics-based criminal bands work, and they have interfered and did not allow these murders to be uncovered, and therefore, our hopes in these institutions were scarce. Not just us but also family members of other enigmatic and political murders post-war, we are disappointed because justice has been delayed and nothing has been done in this respect. All political parties, with no exception, have a role in this, because they were active participant in all obstacles for these murdered to be never uncovered in order not to impair their political relations through various coalitions, the basis of which were only the personal interest and appropriation of riches for themselves and their family members," says Popova. But if not in the local justice system, he has set his eyes upon The Hague. Popova sees the last hope to get an answer to the question he has been asking for the last 22 years in the trials of the Specialized Chambers established by the Assembly of Kosovo in 2015. "The Specialized Chambers are the last hope for us so the case of our father's murder receive the epilogue we have been waiting for 22 years. Seeing the resolve and professionalism of this Court we hope that ultimately, delayed justice will triumph," says Popova convincingly. All that remains to Diar is to wait for the day when his father's murderers will be known by name, and will be brought before justice. 
---
Xhemajl Rexha is Chairman of Association of Journalists of Kosovo, the body that represents some 900 journalists from all ethnic backgrounds in the country. Rexha now hosts "Prime Time" current affairs show in Kanal 10, and worked since 2005 at Kohavision (KTV), where he hosted one of the most watched current affairs show 'Interaktiv'.  With AJK, Rexha is actively engaged in media literacy events, which also includes trainings and reporting about past and sensitive journalism.