President Vladimir Putin's decision to invade Ukraine on February 24, 2022, stunned the world. That move produced seismic shockwaves across Europe, and in particular in the Western Balkans, a region which went through the devastating consequences of war only three decades ago. People in Kosovo and in the Western Balkans understand the consequences of war, ethno-centric narratives, and nationalism. There are many in Kosovo who are following the news about Ukraine with a sense of fear and paranoia.
This region is full of uncertainties and not yet reconciled. Political obstacles, authoritarian tendencies, socio-economic challenges, and inter-ethnic divisions are still present, despite the push to bring the region closer to the European Union (EU).
The Kosovo-Serbia dialogue facilitated by the EU has failed to achieve a final settlement. Albania and North Macedonia are still waiting to open EU accession talks despite progress in domestic reforms. Bosnia and Herzevogina has been subject to serious political and social crises, while Montenegro and Serbia have been going through a sluggish EU accession process.
The war in Ukraine will have a long-lasting impact in Europe, especially in the Western Balkans. In particular, the war has brought into question whether the EU is capable of pushing for conflict resolution, especially pertaining to the Kosovo-Serbia dispute, and whether violence is still a possible option for countries to achieve their objectives.
Bringing back recent memories in Kosovo
The collapse of the Soviet Union and the fall of the Berlin Wall in 1989 brought on a wind of change in some parts of Europe. However, in the Balkans, 1989 symbolized the end of Yugoslavia, which produced a wind of hell with long-term effects for generations to come.
Inter-ethnic clashes in Yugoslavia sparked the biggest war in Europe and the largest genocide (Srebrenica 1995) since World War II. In Kosovo, the wounds of the 1998/1999 war are still part of everyday life, and the situation in Ukraine is evoking memories and feelings of what happened during that period, causing concern whether the war in Ukraine will have spill over effects in Kosovo, on the relations with Serbia, and in the entire region – a region where societies still remain divided along ethnic lines.
The Russian chauvinism and the growing intolerance towards neighbouring countries is causing people to reconsider whether the EU, as a peace and integration project, is capable of solving its problems through non-violent means and dialogue.
What happened to "Never Again"?
The phrase "Never Again" originates from an epic poem called Masada written by Yitzhak Lamdan in 1928, which was used as a slogan by liberated prisoners in the Buchenwald concentration camp. After World War II, "Never Again" evolved from a Jewish slogan for survival to a universalist European and global ideal which said "no" to genocide and war crimes.
Roughly five decades after the Holocaust, international organisations reiterated the phrase "Never Again" as a response to the terrible events in former Yugoslavia. Luxembourg's Foreign Minister Jacques Poos, stated that the "hour of Europe has come" as the Balkans descended into chaos and destruction.
However, Europe stood powerless in influencing the events on the ground. Srebrenica became Europe's shame and a symbol of collective failure to stop ethnic cleansing and genocide. People in the Western Balkans have not forgotten these wars and they are aware that if the war in Ukraine escalates or if Russia prevails, they too, are vulnerable.
The fear is valid
Prior to the Russian invasion in Ukraine, Republika Srpska (one of the two federal entities of Bosnia and Herzegovina) threatened secession. Two years ago, a religious law in Montenegro regarding the Serbian Orthodox Church's property rights spiralled into tension between Montenegrins and Serbs.
Last year, the Kosovo special police units and KFOR soldiers were positioned at the Kosovo-Serbian border while Serbian fighter jets hovered near the border with Kosovo due to a vehicle license plate disagreement between Kosovo and Serbia – a move not seen since the end of the war in 1999. Tension between Pristina and Belgrade is growing as leadership on both sides remain intransigent when it comes to the dialogue.
More recently, the Government of Kosovo declined a request from Serbia to organize Serbian elections in the country. This was the first time since the declaration of independence in 2008 that Kosovo refused to allow Serbian elections take place in its territory, although Kosovo's main Western allies criticized the Government's approach rejecting a solution.
On top of the pre-existing state of affairs, the war in Ukraine is exacerbating existing divisions and challenges. Such a high level of distrust creates a difficult path to peace and prosperity in the region.
Another important issue pertaining to the region is that not all of the Western Balkan countries are aligning with the West's response and policy towards the war in Ukraine. With the exception of Belarus, Serbia is the only European country that has not imposed sanctions against Russia. Furthermore, in a rare example, Serbs in Serbia and Montenegro have rallied in support of Russia. Although civil society activists organized a march in support of Ukraine, such events in Serbia illustrate how divided the country is.
People in the Western Balkans, and in Kosovo in particular, view such developments with grave concern. Kosovo's citizens cannot help but think of a scenario when a Russia-friendly Serbia creates tension in the North of Kosovo, where a significant majority of ethnic Serbs live. At the same time, the Government of Kosovo sees themselves under pressure to deliver on the process of nation building and stand firm in political discussions, especially in the context of the Kosovo-Serbia dialogue.
Shifting focus towards security and the military
War in Europe has produced massive consequences for the entire continent. Russia's decision to invade Ukraine brought an end to Germany's "moralistic and inconsequential" foreign policy approach; it killed Swiss, Austrian, Finnish, and Swedish politics of neutrality or non-alignment; revived the importance of NATO, and pushed European countries to boost their defence budgets.
A whole continent is recalibrating its focus on defence and military spending. This means less money for education, healthcare, and economic prosperity; including peace and dialogue initiatives. All of this is happening as the world is slowly recovering from the consequences of the COVID-19 pandemic and consequent inflation.
In the Western Balkans, Albania and Montenegro have deployed troops in the Baltics as part of NATO. Serbia received weapons and armaments from China, whereas Bosnia and Herzegovina, and Kosovo called for NATO membership. Kosovo even established a government fund to boost its security force.
In a nutshell, the war in Ukraine has produced a paradigm shift in Europe, making security and defence a top priority again. Discussions have been taking place as to whether conflict is yet again possible in the Western Balkans and whether miscalculations at the Kosovo-Serbia border or in the dialogue process might produce large scale tensions.
EU's response directly affects the Western Balkans
Europe has been united in their response against Russia's invasion, and it should never turn a blind eye toward war and violence. "Never Again" is more than just a rhetoric and it would be meaningless without concrete measures.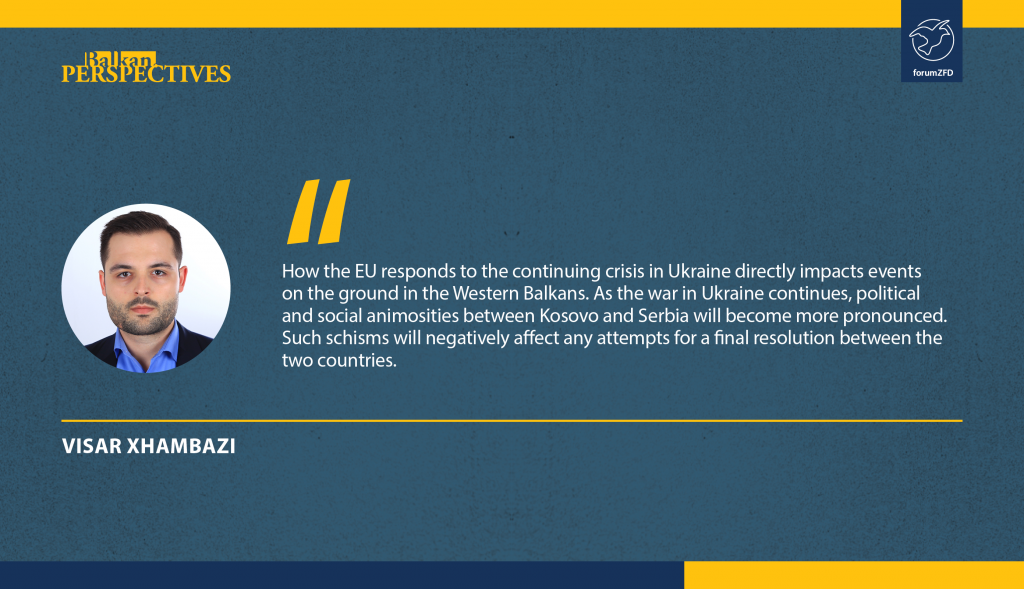 How the EU responds to the continuing crisis in Ukraine directly impacts events on the ground in the Western Balkans. As the war in Ukraine continues, political and social animosities between Kosovo and Serbia will become more pronounced. Such schisms will negatively affect any attempts for a final resolution between the two countries.

It is imperative to remember that the Western Balkans is not a reconciled region. The precondition to enforce a "Never Again" approach is to take potential flares of tension seriously and properly engage with the countries of the Western Balkans.
Three U.S. senators, Chris Murphy, Jeanne Shaheen, and Thom Tillis visited Kosovo, Serbia, and Bosnia and Herzegovina. German Chancellor, Olaf Scholtz, invited the Kosovo Prime Minister Albin Kurti and the Serb President Aleksandar Vučić to an official visit in Germany. Almost immediately afterwards, the German Defence Minister, Christine Lambrecht, visited Kosovo.
However, it has become common for U.S. and the EU politicians to engage with the region in times of crisis. This time around, their engagement has to be consistent. Otherwise, it will only portray a lack of commitment to properly engage with the region and will only serve the argument of prevailing pessimism and further widen the gap between the region and the EU, giving ground to anti-EU resentment in the population.
In the worst-case scenario, lack of proper and consistent engagement will strengthen nationalistic viewpoints, thus making it increasingly difficult to achieve a breakthrough and further progress.
---
Visar Xhambazi has been engaged as a researcher, consultant, and project manager for various non-profit organizations in the Western Balkans and Europe. He currently works as a project manager at Sbunker, a current affairs blog in Kosovo covering politics, society, and economics. He serves as a young professional advisor at United Europe and is a member of M100 Sanssouci Colloquium. His work focuses on Euro-Atlantic integration, US foreign policy in Southeast Europe, authoritarian influences in the Western Balkans, regional cooperation, and the Kosovo-Serbia dialogue. Mr. Xhambazi holds a master's degree in International Studies from Old Dominion University, specializing in US foreign policy and international relations.