In May 2018, the Municipality of Prishtina announced that the house which saw the graduation of ten generations of high-school students between 1992 and 1999 would become a museum. This house is one of 3000 other locations throughout Kosova– including basements, garages, rooms, and entire houses – that were transformed into schools during that time. Known as the Hertica Family School House, this now museum in the making, was also our former high school. It has been a location we have identified with profoundly, both personally and intellectually, and, for over ten years now, a place where we have regularly held study visits with students. At the core of these visits has been a joint attempt to engage with this past, the community, and the knowledge surrounding similar largely forgotten and silenced spaces and experiences in Kosova. At times, we have emphasized the urban dimensions of the location and have raised questions about its history and memory. At other times we have explored the social relations between resilience and violence, but most often we have imagined ways in which it may be transformed into a museum.
When Kosova's autonomy as one of the eight constitutive units of the Socialist Federal Republic of Yugoslavia was forcefully and illegally revoked in 1989, state imposed special measures applied violent interventions and the creation of an apartheid-like system. Those measures, in addition to the martial law, included the segregation of schools along ethnic lines, the removal of Albanian principals of primary and high schools, the revision of curricula, and the elimination of Albanian language instruction at the University of Prishtina. With the help of the police, school premises also became inaccessible. Teachers, parents, and community leaders began searching for options once it was clear that the new regime in Serbia aimed to permanently disrupt, if not eradicate, Albanian language education. Following the initial and organic initiative of primary school teachers, most of whom were women, to hold classes in their homes, a decision was made to establish a school house system. During the 1990s this would become, what many consider, the pillar of Kosova's civic and peaceful resistance movement.
New Museological Approaches on the Parallel School System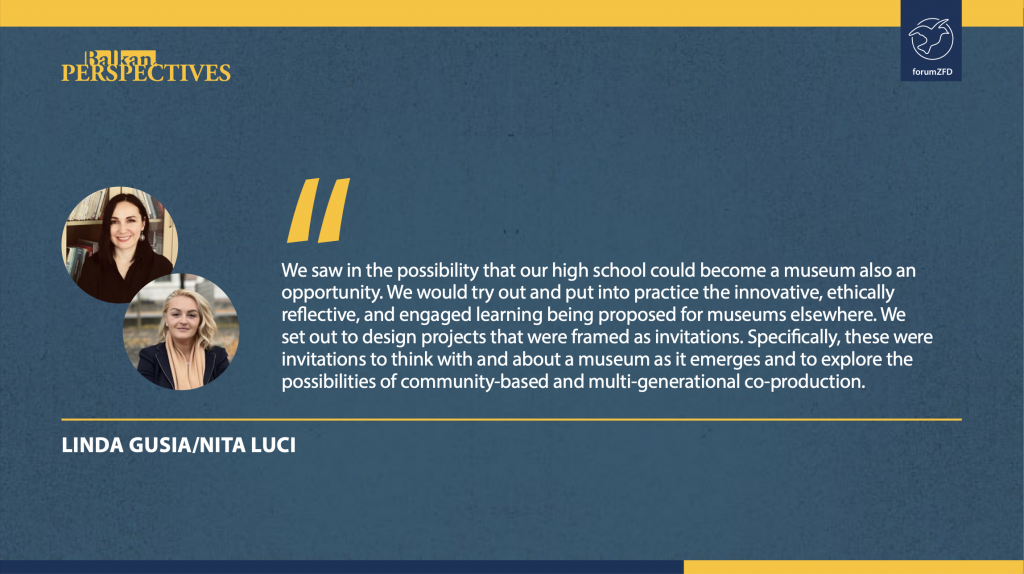 We saw in the possibility that our high school could become a museum also an opportunity. We would try out and put into practice the innovative, ethically reflective, and engaged learning being proposed for museums elsewhere. We set out to design projects that were framed as invitations. Specifically, these were invitations to think with and about a museum as it emerges and to explore the possibilities of community-based and multi-generational co-production. We could also explore the past and ways in which it could be made relevant to the present. We placed young people, our students, who otherwise in Kosova account for more than 50% of population, at the centre of the process. We invited them to research, document, collect, exhibit, and engage in the making of a museum. The conversation also developed around the tools and methods that could generate creative and critical engagement, not only allowing for, but also building upon a multiplicity of voices and perspectives. Based on grounded and participatory research, the educational and transformative potential of museums for creating informed and engaged publics could be explored. We could also engage with the shift of focus from the hero/victim duality persistent in accounts of the traumatic events of the 1998-1999 war, to uncovering more heterogeneous narratives that spoke of social and political agency, solidarity, and community. In the process, a vernacular grammar of commemorations began to emerge, one that was both particular to Kosova but one that also could travel and meet in conversation with other comparable contexts.
Four projects in particular – Making the Museum of Education, ReSpace, ReContextualising Heritage, and Tangible Interfaces for VR Cultural Heritage Application[1] – in a period of over four years collaborated, drew mutual lessons, and produced what believe are some remarkable results. The first two were strands of the Changing the Story project[2] and the latter built on and expanded this initial collaboration. In a period of 39 months, public and private archives, photographs, TV documentaries, in-depth interviews, newspaper articles, and more, where researched, collected, and finally presented in an online platform accessible to all (https://shtepiteshkolla.net/). With Recontextualizing Cultural Heritage we expanded our use of arts and humanities research to include photogrammetry and other digital tools and designed toolkits for cultural and heritage institutions, in this case the school house museum specifically (https://www.reconheritage.co.uk/about). It was then followed by more workshops and study visits built on diverse and innovative methodologies, including found sound, video-diaries, and sensory ethnography, guiding the toolkits which were then designed and made accessible in an additional online platform (https://respace.bournemouth.ac.uk/).[3] In conversation these contributed to the fourth project which we then developed with Vedad Hulušić and Michael Smith. Indeed, it was their previous work on a VR game for the Mostar Bridge in Bosnia and Herzegovina that also inspired the idea for a virtual reality experience for the school-house museum. With the support of a Bournemouth University grant we set to create the School House Virtual Museum as a virtual reality experience.
We began with the idea that a new museum represents a new opportunity and thus we began a joint effort to reflect on existing concepts of museums and think how new ones are emerging. A most recent ICOMOS definition for museums states that a museum is a 'not-for-profit, permanent institution in the service of society that researches, collects, conserves, interprets and exhibits tangible and intangible heritage.[4] This definition spoke to what emerged out of the many conversations we developed with cultural and heritage workers, that is, the increasing relevance of viewing museums as open, living, and networked spaces. Also, the input of young people specifically pointed to the desire for making museums learning environments where there is inclusive and critical co-creation, offering possible ground to also ask questions about museums and social justice.[5] We also engaged with the well-established criticism of national and traditional museums, characterized by linear narratives where there is little room for the complexities of stories and experiences of diverse genealogies and experiences. Also, traditional museum exhibitions are mainly static and are not designed for interaction or physical exploration. There, the visitor is most often a passive viewer. Physical museums especially, while being irreplaceable, are limited to a physical space, require mobility and physical presence, as well as curatorial and decision-making power. Recently however, a very important shift has occurred. Attention has moved from museum exhibits to visitors' experiences. This has developed hand in hand with the utilization of emerging technologies and co-creation for virtual museums. In particular, new technologies are recognized for their relevance in preserving cultural heritage. By integrating virtual reality, for example, as well as numerous other digital tools, museums can enhance the dissemination of their curation, but also engage and represent a plurality of voices and perspectives.
Virtual Reality and Dealing with the Past
Drawing on the learning from previous projects and in conversation with these debates and exciting opportunities in thinking the public's relationship to museums, we designed and developed the virtual reality experience for the School House Virtual Museum (SHVM). We based it on participatory, interdisciplinary, and co-creative methods with students and a larger community of researchers, artists, and practitioners working on heritage and memory. It mainly provides a curated collection presented as three storylines: Kosova in former Yugoslavia, Civil Resistance, Schoolhouse, which build mostly an event-based narrative, but one that does not have to be chronologically explored. The first storyline offers a broader context to facilitate an understanding of the school-house system, as well as the contours of the political and social dynamics and power structures that enabled and sustained it. The second storyline offers an overview and exploration of 1990s civil resistance, of the practices and extent of social mobilization, and solidarity enacted in opposition to structural and state violence. It creates a visual account that is based on images with descriptions/captions, a video montage based on collected VHS footage, and newspaper clippings from both physical and digital archives, as well as a timeline of events. The third storyline, the school-house, is the most profuse. It includes video-interviews with a diverse group of people (educators, organizers, leaders and pupils of the house-school system), personal and public archival materials (media, school documents, letters, the school newspaper, books, etc.). It is a journey to, and through, a very unique experience.
The fact that the site itself – the house – was significantly destroyed during the war, means that it does not resemble the 'original' that was inhabited by the people and events that attach it with relevance. Therefore, the designed experience does not rely on the technological output alone, rather resembles the research process itself. Through archival research it becomes a digital archive of a place itself. The content based on synthesis of video-materials, photos, and interview selections, as well as the particular care given to the soundscape of the experience, offer entry points for the participant to connect with events of the past. In addition, connection with the space of the school, and inclusion of video interviews, becomes particularly important because it invites questions about the relevance of affect, of witnessing and personal experience in history making and narrative construction. It evokes what is often called the aura of the time. Specifically, our study found that a virtual experience connects participants to the material by making an affective and spatial connection by means of "feeling like being there", as one participant noted. Another told us they "had goose bumps all over" and another participant cried. At the same time, participants' virtual presence and engagement with the dense archival and historical chronologies, and video materials, contributed to the desire to "spend more time and learn more," as one participant noted.
A Museum for a New Generation
While specifically engaging the post-memory generation, that is, most young people in Kosova who also hold no personal recollection of the events included, as well as their educators, the SHVM seeks to expand teaching through a pragmatic yet creative engagement with historical context. This is why we foregrounded an understanding of museums and virtual museums as learning environments. Increasingly we find museums used for non-formal education, be it through active learning allowing enhanced engagement with the content and the learning process, thus resulting in enhanced comprehension and participation, or through situated learning which takes place in specific environments and contexts where the learning materials are used and are meaningful to the learner. An additional, intersecting layer to the engagement and immersion that comes with VR, is the potential of participatory-action research principles for generating content, curating collections and designing active learning tools for a diverse group of users (e.g., museum visitors, students, educators, artists, curators, etc.). This is especially true for learning and training aimed at promoting the values of active citizenship, intercultural dialogue, and civic participation. This is why we also conducted a user study with sixty-two participants to gather and reflect their input on the usability and their experience. The responses from educators and students confirmed that the application holds potential as a learning and education tool in either museums, schools, or when used independently.
The SHVM aims to make a modest contribution to the conversations we have pointed to here. Through a cross-disciplinary and participatory paradigm, it is one tool that can disseminate, archive and engage digital technologies in making cultural heritage relevant to public interests. As such it speaks to the relevance of diverse community engagement for sustainable heritage models. As a collaboration between social and technological sciences, as former students of the 'Sami Frashëri' High School and with experience in similar projects in the region, we consider the project an invitation to explore synergies across sectors and academic fields.
---
Linda Gusia is a sociologist and feminist scholar, Head of the Department of Sociology at the University of Prishtina. Her research has focused on topics of gender, feminism, activism, space, memory and violence. She co-founded the University Program for Gender Studies and Research, UP and is the co-organiser of Annual School on Gender and Sexuality.
Ass. Prof. Nita Luci is a feminist scholar and anthropologist. She is on leave from the University of Prishtina where until recently she headed the Department of Anthropology. In 2014 she also cofounded the University Program for Gender Studies and Research, UP. Her teaching and scholarship has focused on the intersection of nationalist cultural politics, manhood, memory and violence, and political movements. She is currently serving as Ambassador of the Republic of Kosovo to the Kingdom of Norway
---
[1] Supported by the University of Bournemouth
[2] University of Leeds. (2021). Changing the Story. https://changingthestory.leeds.ac.uk
(UK Arts and Humanities Research Council Global Challenges Research Fund).
[3] We would also like to thank Paula Callus (CoI on Respace) and Stephanie Schwandner Sievers (Co-I on CtS) at Bournemouth University, Gehan Selim and Andrew Holland (PIs on ReCon Heritage) at University of Leeds, Dritëro Nikqi for SHVM music, Sam Guilmard for help with VR development, and especially Jeta Rexha for her work and support throughout the research process. Special thanks to Dafina Zherka, Shkumbim Brestovci, Lekë Krasniqi, Hazir Reka, Zijadin Gashi, Avdyl Gashi and Alban Kasumi/Lapsi360.
[4] https://icom.museum/en/news/the-museum-definition-the-backbone-of-icom/
[5] Johnston, R., & Marwood, K. (2017). Action heritage: Research, communities, social justice. International Journal of Heritage Studies, 23(9), 816–831.